IMA Appweb
Digital Transformation Agency, With 11 years and more than 50 people working inhouse and few 100 people spread across 40+ locations globally, we are armed with the right capabilities to serve our industry leading clients, emerging clients and startups.
Our services include the following: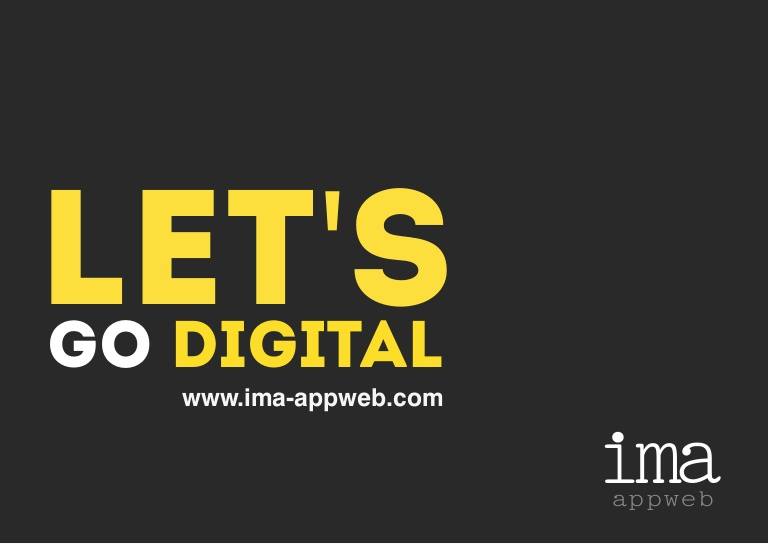 DIGITAL BUSINESS STRATEGY & INNOVATION
Transforming through the lens of the customer with a forward-looking vision and strategy
Transformation Planning
Digital Capabilities Benchmarking
Digital Products & Services Design
Always-on Digital Innovation
CUSTOMER EXPERIENCE
Creating value in every brand interaction through customer journey models, experiences and content/data/CRM platform
Customer Experience, Strategy/Journeys
Web or Mobile Experience Design and Front-End Development
Digital in Physical/Retail Experience Design
Content & Customer Service Technology Platforms
MARKETING MODERNIZATION
Real-time marketing through programmatic platforms, content marketing, media, and creativity
Brand Planning/Creative Campaign Design & Optimization
Social & Content Marketing
Media & Search (SEM, SEO) Program
Martech Campaign, Marketing, and CRM Automation Platforms
IT MODERNIZATION
Evolving enterprise IT through new architectures, adoption of cloud technologies, and agile operating models
IT Strategy & Consulting
Enterprise Architecture
Cloud Technology Migration & Managed Support
Custom Development & Systems Integration
COMMERCE
Reinventing and digitizing commerce and retail channels to drive more revenue and efficiencies
Omnichannel Commerce Strategy
Commerce Experience Design
Commerce & OMS Technology Platforms
Commerce Optimization & Management
DATA & ARTIFICIAL INTELLIGENCE
Enabling companies to leverage data as a strategic advantage across the enterprise
Enterprise Data Strategy/Governance/Consulting
AI & Cognitive Experiences Platform Design & Development (Watson, Cosmos, IDIOM, YUBII)
Data Science Services
Analytics & Measurement Services
Ima Appweb "Digital Transformation Agency" Provides 360 degree digital services to our cliens. At IMA APPWEB we make sure to raise your business to heights with our well trained teams of web designers, SEO Search Engine Optimization Analyst and managers, SEM - Search Engine Marketing Experts & Digital Advertising Experts.
Download Our Company Profile : Click Here
**Note: IMA is depicted as Internet Marketing Agency, it is not any affiliation of Indian medical association, Indian Military Academy and we have nothing to do with these organizations.