Winner of the Global Digital Health Innovation Awards 2022
For Developing Innovative, Accessible & Affordable products/services to transform healthcare. AI-Based Wellness Selfie, Wellfie
Get your Key Health Vitals Anywhere, Anytime. Get a health check as simple as a SELFIE!
WellFie is an Augmented Intelligence App that allows contactless health tracking – using your smartphone, to check your Key Health vitals in just a few seconds!
By analyzing a 'real-time' video of a person's face, application can assess a wide range of physiological parameters
With WellFie, you have Comfortable, Convenient Remote & Real-time buy steroids online assessment.
Measure your Health Vitals from anywhere with help of your mobile phone
Real-time Monitoring, No need to visit Clinic/Hospital/Path lab
Accurate
Very helpful for Low Mobility Patients
Cost Effective
Contactless
Cuff-less Blood Pressure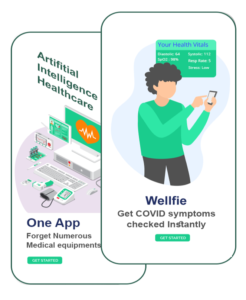 Vitals that you can track from Wellfie technology
BPM( Beats per minutes) / Heart Rate
RR (Respiration rate)
Oxygen/SpO2
StressStatus
BloodPressureStatus, like high. low, critical
diastolic (reading in units)

systolic

(reading in units)
ibi (Interbeat interval)
rmssd (root mean square of successive differences between normal heartbeats)
sdnn (standard deviation of the IBI of normal sinus beats)
stressIndex (Stress Index
bmi_value (Body Mass Index)
These parameters can be utilized by various other domains. It is all about using these vitals signs to transform your business.
What can be possible use cases of AI based wellfie technology?
Insurance companies can use BPM, RR, Oxygen, BP to do the underwriting of health insurance.
Wellness and Health based companies can use wellfie technology to provide realtime stats to their customers and track their history as well as advice the medication or schedule accordingly.
Wellfie technology can also be used by dermatologist to study skin, tounge, iris etc to build up an enhanced digital tranformation use cases.
The technology can also be used in identifying COVID, a dedicated platform too has been developed for this case you can visit covitor.ai
The Wellfie technology can also be used by various security companies to identify liveliness and authenticity of the visitor. They can also combine this with their wellness tracking of their visitors/employees.
Technology in this new world is merging to produce completely new phenomena in all sectors, changing our world forever. We're seeing technologies like rPPG, artificial intelligence; voice recognition, augmented reality, and virtual reality; blockchain technologies become better and better.
Check your Key Health Vitals Now at  Wellfie