It's amazing how efficient a mobile device can be when it comes to accessing information on the internet, web browsing, answering emails and so much more. Mobile devices have become an irreplaceable part of everyday life and business owners can take advantage of this by optimizing their websites for mobile viewing. Mobile presence in the form of websites, applications or web apps prove to be a business boost by making them highly productive. Mobile applications and mobile websites increase customer engagement by generating more traffic through quick and easy access. A mobile presence also enhances greatly the overall user experience thereby creating an impression that makes a difference.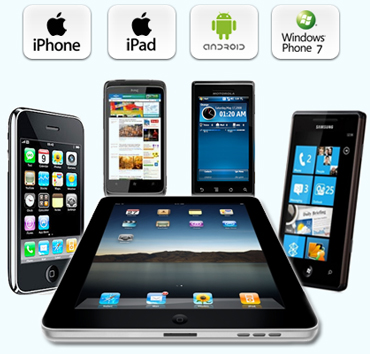 At imaAppweb Solutions, we understand the importance of mobile presence and how it compliments the customer reach. We have established application development methodologies that ensure a smart and to the point display. By analyzing thoroughly the minutest of requirements, we suggest our clients about what kind of a mobile presence; mobile applications, mobile web apps or mobile websites would serve their purpose best. We are experienced in mobile development for all well known mobile platforms, their native development kits, functionalities, features and other third party development alternatives. Our products are robust in nature, promise the expected user experience and have the strength to withstand the required scale up to match with future anticipations.
Few of our Mobile Development Highlights are:
Our dedicated team of mobile developers work from India on a number of technologies to develop premium websites, web apps and applications for clients, world over.
HTML5 based Mobile Web development
"The future of Web Development"
Based on the feature set exposed by HTML5, it certainly qualifies as one of the best web development technologies for the desktop as well as mobile platform. The key features include: offline support, via the AppCache and Database APIs for storing stuff locally on the device; Canvas and Video to simplify adding graphics and video to a page while ignoring plugins; advanced forms, which can handle tasks like field validation on the mobile browser and the GeoLocation API.
Cross Mobile Development
"Single code base for every every smartphone"
Using frameworks such Appcelerator, PhoneGap, RhoMobile and Adobe Flex we support developing applications which share the same source code but run on different platforms. By minimizing investments and maximizing business, cross platform mobile development proves to be an ideal methodology for customers to have their application supported across all platforms at the same time.
Game Development
Our Team is specialized in developing both 2D and 3D Games for Mobile Platforms. For Game Development on Mobile Platform we use OpenGL, Cocoa2D and Unity3D frameworks. Game Development is one of our core expertise. If you have a Game concept floating in your mind, we invite you to share it and allow us to contribute our experience in your best interest.
Developing Location Based Apps
Nowadays all Mobile Phones are equipped with GPS. Using a GPS radio, you can pinpoint mobile locations on a Map. There are infinite ways in which you can use this location to fit in your workflow. We help our customers use the true potential of GPS receivers and build apps around it.
Tablet Publishing Apps
Ever since Apple introduced the iPad, tablets are becoming the preferred way of reading publications. We help publishers tap this market by providing them with the right solution to digitalize their content for tablets. For content publishers there are two options, native applications and HTML5 web applications. We have expertise in both and help our customers choose the right path.
Enterprise Mobile Application Development
With the handheld gadget getting powerful, more enterprises are adopting mobile devices as part of their workflow. Our mobile development team has years of experience in developing enterprise applications for the mobile platform which exploits the full potential of handheld devices. If your enterprise requirement needs to be customized for the mobile we are here to assist.
We cater to mobile development needs of a range of domains
At imaAppweb Solutions, we have thoroughly traversed the length and breadth of multiple business domains. We have developed mobile apps and websites for the print media industry, e-commerce businesses, entertainment world and many more.
To address customer requirements, we have researched various available mobile development methodologies and developed in-house expertise in each. Broadly speaking, we have worked in the following verticals:
Android Development
iPad Development
iPhone Development
Windows Phone Development
BlackBerry Development
Playbook Development
Mobile Sites
Adobe Flex Development for Mobile Devices
Phone Gap Development
Appcelerator Titanium Development
Augmented Reality Development
Virtual Reality Development
Hire Mobile Application Developers or Consultant Company in India
Our staff in India is comprised of experienced mobile application developers and mobile website engineers. With industry best practices for development as well as business association, we try to convert our first time clients into long term ones.
Dedicated developer model at imaAppweb Solutions Includes:
High Quality Work and Committed team
Cost Effective offering
On Time Delivery
Adoption of Best Coding practices
Benefit from specialized skills
Flexible payment model – Full Time, Part Time or Hourly