Contents
Branding & Communication Design that can help put your business in the limelight
The Right Approach to build your business online
Leisure Safari Visual Identity design
Digital Transformation Imperative.
Lead generation page to upsell wildlife safari packages throughout the globe.
Social Media Marketing Strategies.
Paid Advertising Using Google Ads & Facebook Ads.
Branding & Communication Design that can help put your business in the limelight
IMA APPWEB is a Digital Transformation Agency that specializes in Digital Business Strategies, Customer Experience, Marketing Modernization, IT Modernization, Commerce and Data & Artificial Intelligence.
Our team of expert Visual communication design professionals is highly skilled at crafting exclusive identities based on market research, Customer Psychology, Neuroscience & Demography.
With the ability of intelligent design, we have helped many of the leaders in Travel & Tourism, Hospitality, Hotels & Resorts, Medical, Education industry define and deliver their USPs – especially to their Consumers.
One such brand is Leisure Safaris, now a division of Mercury – a luxury initiative of EbixCash, that aims to handcraft your perfect immersion, bringing harmonic luxury to the natural wonder, and tailoring your dream African Safari experience.
The Right Approach to Build your Business Online
At IMA APPWEB, we believe that creativity is the main key for opening up to new and innovative ideas for your brand or business. We follow our tried and tested approaches that never let us down.
We feel that every client/ business has their own need/demands and we truly respect that. With an inbuilt passion for creativity, we try to tailor make everything from scratch into one beautiful experience.
Others might just show you want to see and not what you should see, we give you complete access to unfiltered and unaltered reports. We are just a call away when you need clarity on anything.
Read further to see how we digitally transformed their identity!
Leisure Safari Visual Identity design
The Logo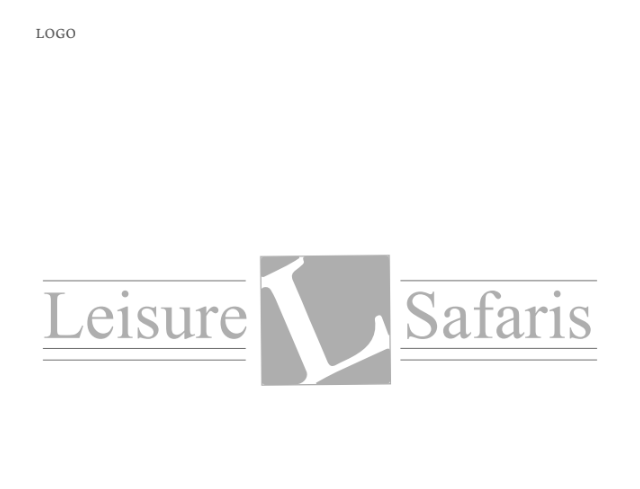 Have you noticed that you're able to identify a brand or a business instantly just by looking at its logo, even if their name isn't a part of it?
That's because a logo is a very essential part of the brand, it makes a significant impact on the company's public reputation. In fact, it is one of the most important branding investments any brand or business can make as it's the first thing that any user or client notices.
It is much more than just an image; it is a point of recognition for clients and an important base for the branding of your company.
A well-designed logo is an effortless way to convey to your clients that your business is professional, reliable, and offers quality goods and services.
When designing the logo for Leisure Safaris, we kept in mind that the logo should be distinctive enough to be easily recognized and simple enough to work across multiple media platforms.
Digital transformation imperative
Website Design & Development
Desktop Version
Homepage

A homepage is the first thing that the user sees when they navigate to your website and the first 20 seconds are the most crucial because that's when he decides whether he wants to navigate further or not.
We never get a second chance to make the first impression on your client that's why it is unquestionably one of the most important web pages on your website.
We know exactly what will make your website's homepage design brilliant instead of bland.
In this case, the Homepage design of Leisure Safaris clearly speaks about 'who they are', 'what do they do', and 'what can the visitor do here', cause the idea was to make the users stick around for long and if they can't identify what does the brand do within seconds, they won't!
Another important factor that we keep in mind is, Homepage having a design that resonates with the target audience and the design communicating a fascinating value proposition.
That's why we created a homepage that narrowly focused on speaking to the right people in the right language that is clear and easy to understand.
Lastly, we wanted the Homepage should compel the users to stick around and that's why we made it engaging, easy to navigate and interesting. We didn't want any flashy objects and popups or unnecessary and complicated elements on it.
Itineraries page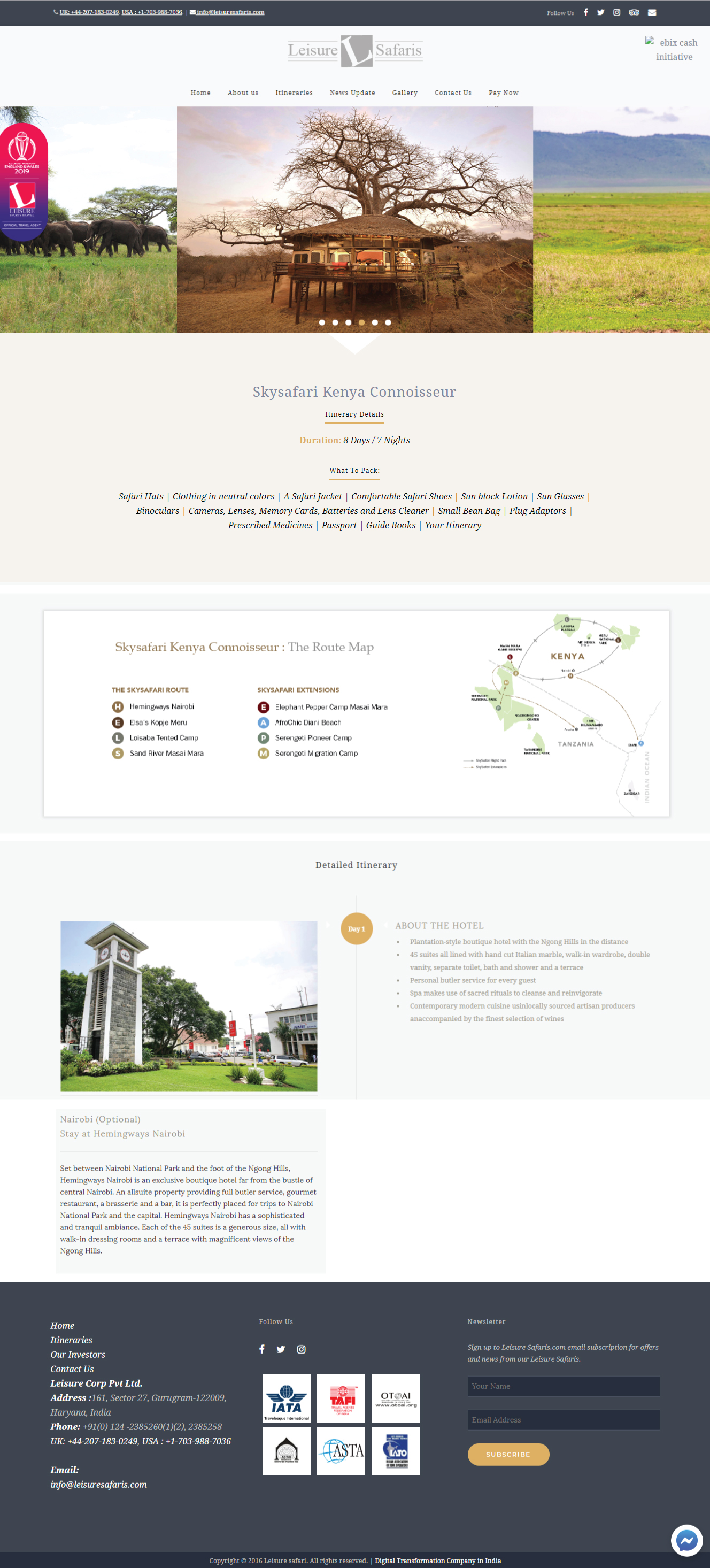 Traveling these days is more complicated than choosing a destination, planning and booking your tickets and accommodation.
That's why we feel a travel itinerary is as important as choosing the right destination and accommodation. It can actually make or break your whole trip!
For making this a success, we added these following elements to it.
A detailed route map of the package.
This helps users to have an idea about all the places they'll be traveling to and how far they are from one another.
This gives the clients a systematic and organized way to plan and manage things accordingly.
Detailed Itinerary
We understand that the clients expect to see a brief overview and more detailed information about the travel itinerary, the accommodations, additional services and more.
That's why we created a travel itinerary that fulfilled all the above-mentioned things. Our aim was to not only let clients to have an idea about the trip but also help them with a lot of other things like
Manage their expenses beforehand
Manage their time according to your preferences
Helps in Prioritizing things
Travel essentials are not forgotten
Route map was provided
Timeline view of day wise travel
We made sure that the page is responsive and easy to navigate so that the clients do not face any problems with it.
Mobile Phone Version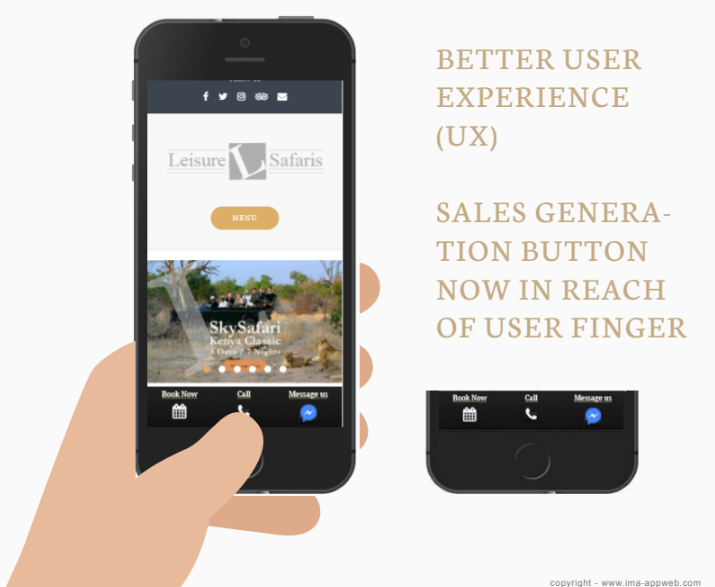 For people who use their smartphones more than desktop, we tried making things a lot easier for them by adding a direct call button and messenger bot.
This helps them to either chat with us or call us directly. This gives clients a better user experience and more sales are generated.
Lead generation page to upsell wildlife safari packages throughout the globe
Landing pages design & Development
Landing pages are pages on your website that we design to convert visitors into leads as it is the first and the foremost step in building a relationship between you and your customer.
The more landing pages your site has, the better it is as they are beneficial to your business in many ways like:
Landing pages help increase conversions
A landing page helps in setting up a clear and easy action for the users to take. As a result, you will see more conversion happening, i.e. action being taken.
Landing Pages help in generating data and Insights
When we link your landing pages to specific campaigns, content, or source, you will be able to see which channel is bringing in most leads, which topic is of most interest to your target audience, or which campaign is the highest performing. Tracking user behavior is one of the best things for landing pages that can provide you with valuable insights. These insights can help you refine knowledge of your target audience, your campaign strategies, and improve your effectiveness overall.
So, what we're saying is Landing pages are meant to smoothen out a specific action for your business, they help in improving your relationship with clients, intelligence about your business, and success of the marketing campaigns.
Email- Marketing Services
Email marketing is not so new but isn't dead either. It is actually one of the best with the highest rate of interest out of all marketing channels, only if done right!
If you want to grow your business, Email Marketing is one of the best options for you and it can help you speed up your sales.
The main goal of email marketing is to make people aware of your product/ business and motivate them to buy it.
Our team of expert writers' craft engaging and relevant Newsletters to help your clients be updated with all the latest updates about your business.
Social Media Marketing Strategies
Facebook marketing used for increased brand reach activity and lead acquisition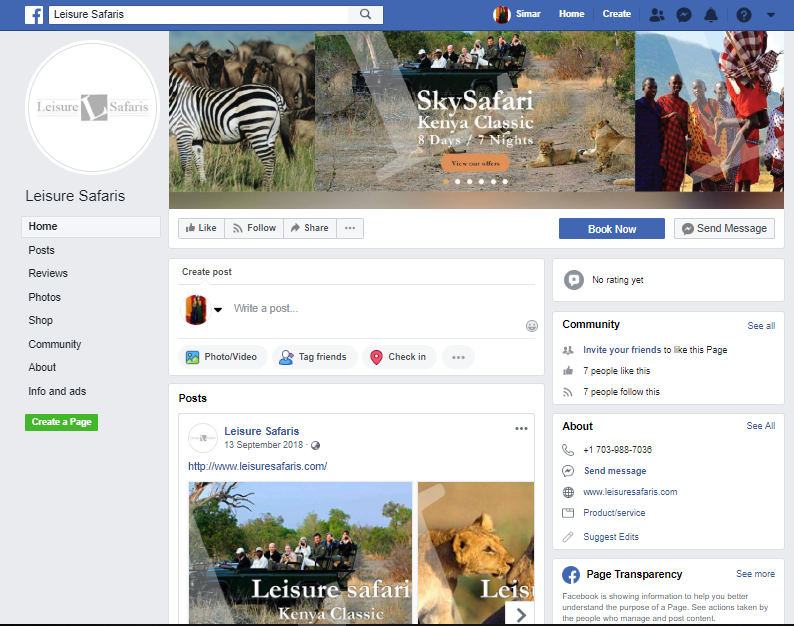 Social media is one of the fastest growing trends of all times. 1 out of every 4 people has a Facebook account, from kids to teenagers to adult everyone one is equally addicted to Facebook.
The first and foremost thing for a company to get recognition on Facebook is to create a Facebook Page or a group, where we can post stuff and let people gain knowledge about your product and engage with it.
It is the most obvious Facebook Marketing tool for any brand.
Creating a page is simple, anyone can do that. But, maintaining the page, creating engaging content, running Facebook Ads isn't.
And, that's exactly what we master. We know how to get traffic to your page, what your target audience should be, what do people want to read and know about your brand and a lot more.
We can help you stand tall and be somebody from a nobody, especially on Facebook!
Paid Advertising Using Google Ads & Facebook Ads
Paid advertising channel was used for the following activities
The Brand & Awareness campaign
Lead generation / Direct Sales generation campaign
Types of advertising used to promote Wildlife Safari in Africa
Search advertising
IMA APPWEB can help you create and optimize ads that show on a google search. They can also advise on keyword strategy and budget planning.
Mobile advertising
We can help you connect with potential customers using mobile advertising on mobile devices through text, image, video and HTML ads
Display advertising
We can help you create competitive visual ads that reach potential customers on over 2 million websites and 6,50,000 apps
Video advertising
Need assistance with implementing and optimizing your video ad campaigns on YouTube? We can help you create Bumper ads and plan your video marketing campaign
Remarketing
We will help you remarket the customers who saw your ads. We will create a campaign in such a way that your product is always visible to them, wherever they go.
VALUE IMA APPWEB ADDED TO LEISURE SAFARI
Branding & Communication design, that attracted customers from all around the world.
A Visually attractive and more informative website that attracted prospect and enticed them to visit Africa and its wildlife heritage
Precise Itineraries Presentation – Day wise itinerary presented in timeline format for a better understanding of per day activities, as well as hotels that guest will be staying as well as experience that customers will get
Dedicated Booking Forms, especially designed and integrated with CRM for the sales conversion process.
Live Chat System – third-party live chats were used to fill up the sales funnel
Quick Payment getaway – Online payment has increased and quadrupled in the last few years, so as to provide an easy channel for customers to make a hassle-free reservation online payment gateways were integrated
By developing Fast loading, Mobile friendly websites which open in every kind of device available in any part of the world.
Why Choose us?
If you are looking for an agency with Vast Portfolio & Experience of the travel and hospitality industry.
If you need Innovative and creative thinkers in terms of design, development, research, and marketing.
If you opt for Concept-based work instead of regular work that is going around in the market.
If you are more focused on User Experience (UX) rather than a website
If you want Higher ROI - Desired Output from your Investment
Our Value Proposition:
"Value is created when the consumers give value to the services it consumes".
If you would like to start a conversation with IMA APPWEB to harness best-in-class branding, design, and communications to raise the performance of your brand, you can
Address: 12, 2nd & 3rd floor, Hauz Khas Village, New Delhi - 110016, India
Phone:   011 4558 6499
Email: [email protected] | [email protected]
Website: www.ima-appweb.com